Annual Blessing of the Fleet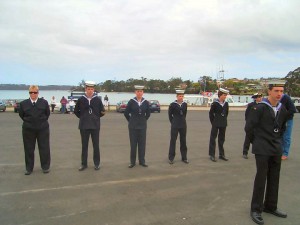 On the 24 October the annual Blessing of the Fleet was conducted on the St Helens Wharf by the Rev Alexander Withers. Approximately one hundred supporters and local community members attended to pay homage to our life around the sea. Rev Withers blessed the fishing fleet, crews, Marine Police and the local marine rescue unit.
Many took advantage of the opportunity to jump aboard the Marine Rescue, Tasmanian Police and Troy Rainbird (Nifty II ) vessels for a trip down the bay after the service.