Barway Rescue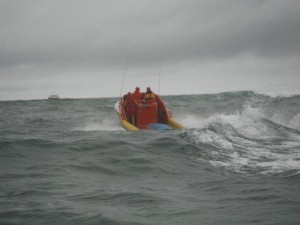 On Saturday 2 February 2013 a crew from St Helens Marine Rescue, coordinated by Sergeant Bidgood of the Tasmania Police Marine and Rescue Services, St Helens, rescued three fishermen when their vessel was overwhelmed by a large breaking wave on the St Helens barway. A fourth person was able to swim ashore and raise the alarm.
The crew managed to transmit a mayday distress call during the incident but their position was not heard at the time.
This is a timely reminder for any boater on hearing a mayday call to ring triple-zero (000) straight away, it does not matter how many make the call. Please also keep your radios tuned to the VHF distress frequency (Channel 16) or monitor the local UHF channels (Channel 88 and Channel 94).
If you are unsure of the correct procedure for making a distress call using your ship-board radio, please review the information available on the Marine and Safety Tasmania (MAST) website.
We again ask anyone crossing the barway to:
Observe conditions or contact us to get an update.
Be more cautious on an outgoing tide.
Be more cautious during onshore conditions (fresh breeze from a northerly to easterly direction).
Log on with your local Volunteer Marine Rescue Unit using radio communications to let them know you are going out for the day.
Just doing these simple things can save a life, maybe yours?