Blessing of the Fleet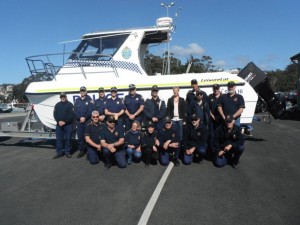 On 1 September 2012 we celebrated the first day of spring by blessing the new Tasmanian Police vessel based in St Helens, PV-POLSAR III. The occasion was celebrated with a community barbeque.
The barbeque was also used as an opportunity to raise funds for a community contribution to a fixed location camera (webcam) to go on the St Helens barway. Once commissioned, the camera will to enable anyone to view conditions on the barway and assist skippers in deciding whether it is safe to cross the barway.
On the day we also received a sizable donation from Leigh Kelly Agencies in the form of polar fleece jackets for our crews. Thank you also to Tasmanian Locksmiths for donating the meat for the barbeque and to Bob at the St Helens Bakery for bakery goods.
Local member Bec White MHA attended the ceremony and barbeque, as did Tasmania Police commander Richard Cowling and the Deputy Mayor of the Break O'Day Council, Hannah Rubenach.
Our thanks go to everyone for attending and making it an enjoyable day.