Flooding in St Helens Area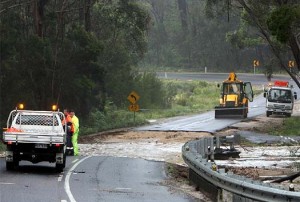 On 12 and 13 January 2011 St Helens received 148 mm of rain, followed by flash flooding in the town and closure of all roads into the town.
St Helens Marine Rescue assisted the community by providing crews to assist with sandbag filling and recovery of boats that had filled with rain water. At the request of SES, RV Larapuna was on standby should any rescues be required from the fast flowing rivers.
Electricity to Binalong Bay was also cut for several hours and, as all roadways to the Bay of Fires were also closed, St Helens Marine Rescue was requested to take Aurora Energy technicians by boat to a pickup point from where Binalong Bay firemen provided transport to the problem. A wary eye was kept for the in and out trip as large logs and debris were everywhere in Georges Bay.