Pelican Point Disater – Help Us to Help You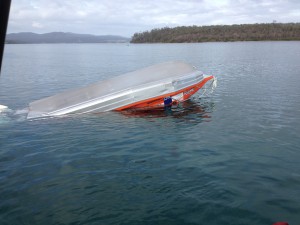 In my previous posting I described the disaster and the incredible misfortune of losing our primary rescue vessel (see the post below).  Subsequent to this  Break O'Day has been written off.  So now we are in the throes of acquiring a new vessel capable of serving mariners in North Eastern Tasmania.  Scope Insurance Brokers have been fabulous is assisting us through QBE Insurance. Both organisations cannot be faulted in the manner to which they have responded.
We are looking at a replacement vessel with similar characteristics to the Break O'Day, as this craft is specifically built to withstand the rigours of the challenging sea environment in particular the St Helens Bar. Deegan Marine is putting together plans for a new Stabicraft that will fulfill the parameters of a marine rescue vessel.
The new Stabicraft rebuild is completed (23rd September). We thank the many contributors to fund our new vessel. An update on our web site will be forthcoming in the near future.  
We look forward to continuing our service to the boating community of Tasmania. Please do not hesitate to call us on VHF Channel 16 or by phone 6376 2443 (mobile 0408 817 359).
Local St Helens businesses remain great supporters, when visiting donations can be made at these wonderful locations: