Sea Guardian to be replaced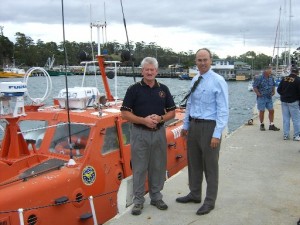 Posted on ABC News on Friday 4 May 2007
Coast guard safety concerns because of ageing boat
The St Helens Marine Rescue says it will not be able to attend distress calls in larger seas in the near future because of its ageing boat, the Sea Guardian.
But the organisation has pulled out of a federal funding application to buy a new boat.
The Commander of the St Helens Marine Rescue, Ian Hollingsworth, says they are frustrated by the process and the boat they wanted has been sold.
"It's just a continual process of chasing money to keep us up and running, we've sort of got a little tired lately and just at the stage where we need to take a deep breath and just assess what the situation is, and possibly look it a bit further down the track," he said.
It needed $375,000 from the state and federal governments – the state committed $40,000 and the Liberal Senator Guy Barnett said he would back an application for federal funds.
Mr Hollingsworth says they will have to consider replacing the Sea Guardian soon.
"The possibility is that as it deteriorates slowly we can limit where we go and what we do, the boat has a lot of life left in it and we'll be using quieter waters once we're finished with it but it's only a matter of time before we can't take her out in the large seas we experience at times," he said.
The Sea Guardian is a 48 foot Solent Class lifeboat and is a well recognised vessel on the Tasmanian East Coast, having towed dozens of boats to safety. She always performs at her best when seas are at their biggest. As an example of her capabilities, she has assisted one yacht 35 nautical miles north-east of Eddystone Point in winds gusting at over 70 knots.