Summer 2012/13 Statistics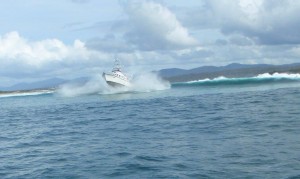 During the period 1 October 2012 to 31 March 2013 St Helens Marine Rescue Association assisted 36 vessels, carrying a total of 94 persons. The activities included:
aiding vessels in distress, including support to the Tasmanian Police (4);
assisting vessels with mechanical problems or in poor weather, providing a tow-in where necessary (12); and
escorting vessels across the bar and through the channel (20).
Our rescue base handled 2,294 VHF calls, communicating with 887 vessels carrying a total of 2,673 persons.
We would like to thank our volunteers, radio operators and boat crews for the hours invested in training and operating to provide the service, often in dangerous conditions. We are very proud of the performance of the boat crews, coping with difficult tows and dangerous barway conditions. Our radio operators are on duty for long hours and continuous radio traffic. St Helens Marine Rescue also plays an integral roll co operating with Tasmania Police in keeping our waters safe.
As always, the organisation also could not continue without the generous support of our sponsors and donations from the public. Your contributions, regardless of the amount, are always gratefully accepted.