Breaking News: Georges Bay is on the water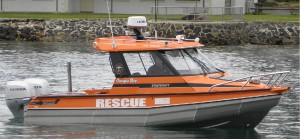 St Helens Marine Rescue is excited to inform mariners Georges Bay is finally in Survey.
This came through as of Friday the 29th of January, 2016.
In order for this to take place the vessel had to undergo a rigorous assessment which means it meets the standards as prescribed under the Australia wide NSCV (National System for Commercial Vessels). We believe we are the first in Australia to undertake this process.
So what does this mean?
This long awaited vessel is available to serve mariners within the North East region of Tasmania. The conditions under which Georges Bay can be deployed include:
The vessel will be operated by appropriately qualified skippers and crew;
It passed rigorous safety equipment standards;
Capable of  rescuing persons at sea.
Can act as an escort vessel within Class 2C (R) waters i.e. 15 nautical miles from the coast.
Safety equipment includes:
Automatic Identification System (AIS);
Radar;
Sonar;
Navigational GPS;
VHF radio.
All of this was made possible by the magnificent contribution of the public and corporate sponsorship. The journey has taken 12 months since the loss of Break O'Day. We are eternally indebted to those who contributed as we acknowledged in previous posts.
All mariners please note: Georges Bay under its Survey conditions is not permitted to tow vessels under any circumstances.