Congratulations TS Argonaut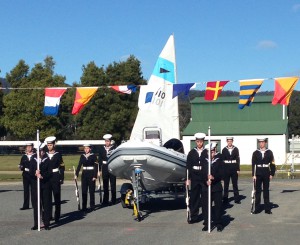 St Helens Marine Rescue congratulates TS Argonaut on the naming of its new vessel Argo 1. After a very chilly start to the day the weather turned on a perfect, sunny, calm winter's morning. The assembled throng of cadet families and friends, community members and local dignitaries on the parade ground awaited with anticipation. After a welcome by the ship's commanding officer the audience was  treated to an outstanding marching display by the naval cadets, culminating with a rapid march routine to "We Will Rock You" by Queen.
The naming ceremony preceded a gathering of guests and cadets on board the ship over a cuppa. The addition of Argo 1 to the ship's fleet will compliment and broaden the naval experience for cadets.