VHF Marine Radio Certificate (MROVCP)
From the Office of Maritime Communications (OMC).
In order to operate a VHF radio you are required to hold a Marine Radio Operator's VHF Certificate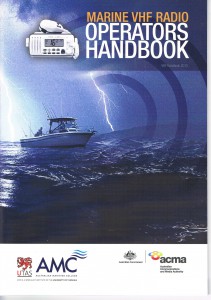 of Proficiency (MROVCP). This means you can communicate using your VHF radio. The Australian Maritime College (AMC) is delegated by the Australian Communications and Media Authority (ACMA) to manage all functions associated with marine radio certification. So, how does this operate?
You gain your certificate once you pass a multi-choice examination (70% is the pass requirement);
Study for this exam independently or
Attend training courses available in your area (contact St Helens Marine Rescue);
The Maritime Radio Operator's handbook (MROH) will assist candidates (available from AMC on line or in hard copy for $15.50 plus postage);
There is a practice exam for the MROVCP on the AMC web site;
Once you are ready to sit the exam contact an Invigilator in your area to arrange a time to sit the examination (contact St Helens Marine Rescue);
There are administrative costs involved, contact the AMC or St Helens Marine Rescue for details.
 Criteria prior to sitting the information
1. Minimum of 16 years of age;
2. Application information given is true and correct;
3. You certify you have the ability to correctly send and receive messages by radio telephony.
For further enquiries  contact St Helens Marine Rescue or the AMC.
Log on and log off
When going out for a day of fine fishing log on with your local VMR. Tell them of your vessel's name, people on board and destination.They will record these details. After a great day on the water log off with your VMR organisation.