CYCA SOLAS Trusts pledges $20,000 to St Helens Marine Rescue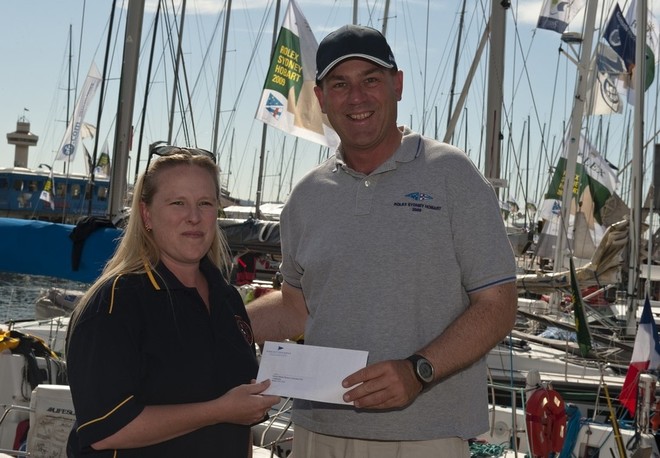 In its 10th anniversary year, the Cruising Yacht Club of Australia Sydney Hobart Yacht Race Safety of Life at Sea Trusts (SOLAS) has made a pledge to St Helens Marine Rescue Association Inc (TAS) of $20,000 as seed funding for the purchase of a new RIB.
The RIB will provide additional rescue capabilities and support to the main rescue vessel, Freycinet, that the association acquired earlier this year from Tasmanian water police. The RIB will also provide an additional resource to the Break O'Day municipality.
Earlier this year, St Helens Marine Rescue assisted local marine authorities when a commercial fishing vessel overturned on the Georges Bay Barway, rescuing three of the four crew members safely. Local marine authorities rescued the fourth crew member from the water.
The conditions during this rescue were difficult at best and this incident prompted the need for a better suited, more manoeuvrable vessel.
St Helens Marine Rescue Association is a wholly volunteer operated association, that maintains a 24/7 watch over the waters of the Break O'Day municipality and St Helens, providing support to commercial and recreational vessels. Additionally, the rescue service has provided valuable assistance to those yachts competing in the Rolex Sydney Hobart Yacht Race (when called upon) and the Launceston to Hobart race.
In making this donation, CYCA SOLAS Trusts Chairman, Matt Allen said 'We are pleased that the CYCA SOLAS Trusts can provide this valuable assistance to St Helens Marine Rescue, so that they can continue to maintain the high standard of volunteer marine rescue.'
'It is associations like these that are often first to come to the aid of yachtsmen, commercial and recreational vessels. The support that St Helens Marine Rescue has provided to the Rolex Sydney Hobart Yacht race over the years is recognised by this donation and we look forward to their continued support in the future, should it be required,' added Allen.
Angela Matthews, Secretary of St Helens Marine Rescue said that this funding was vital to the wholly volunteer run association. 'On behalf of all the volunteers from St Helens Marine Rescue, I would like to thank the CYCA SOLAS Trusts for their commitment to volunteer rescue services.'
'This RIB is a vital community asset and is greatly appreciated by the Mayor and the Break O'Day community,' said Matthews.
One of the CYCA's SOLAS Trusts objectives is to assist search and rescue organisations Australia wide. In the ten years since it was established, in excess of $500,000 has been donated to 17 organisations in every Australian state as well as the ACT. This is the fourth Tasmanian donation. Other Tasmanian organisations to benefit from CYCA SOLAS Trusts donations are Tasmanian Air Rescue (two donations) and Tas Coast Radio.
Reproduced from SailWorld.com