Farewell to our vessel "Freycinet"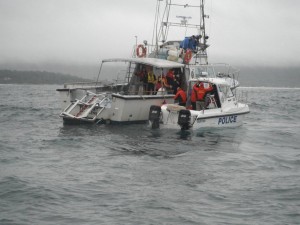 Today we passed over the keys to the new owner of Freycinet. This was tinged with a sense of sadness as this beautiful vessel has been such a stoic member of St Helens Marine Rescue.
The reality is however the new NSCV regulations quite simply impose extremely stringent rules around what craft can and cannot operate as a rescue vessel.
To capture a little of the past, below is the announcement of Freycinet's arrival from September 2009
David Llewellyn, Member for Lyons, today presented the St Helens Marine Rescue Association of Tasmania with the recently decommissioned Police Vessel, Freycinet.
"Although the Freycinet is 29 years old, it has been meticulously maintained and will greatly enhance the St Helens Marine Rescue Association's capabilities and ongoing operations," Mr Llewellyn said.
"The Freycinet will expand the rescue capabilities of the group with its range of 500 nautical miles, radar and an array of navigational equipment.
"I am pleased that this hard-working group of volunteers is able to take on such a reliable and sturdy vessel. It should provide years of service.
"The St Helens Marine Rescue Association is to be congratulated for its dedication to the safety and security of the maritime community."
Freycinet will remain on the waters of Georges Bay as the new owner is a local. We wish him well in his new venture aboard a beautiful water craft.