Welcome to a New Season
The summer boating season is nigh. St Helens Marine Rescue reminds boaters this time of the year is an opportunity to ensure your vessel is ready for the upcoming recreational fishing season. Have you had your motor(s) serviced by a qualified service agent? East Coast Outboards is a local service professional that maintains St Helens Marine Rescue's vessels. We service our vessels every year without fail.
Is your onboard safety equipment serviced and up to date? I speak of your life jacket, flares kit (2 orange & 2 red), battery (charged) and fire extinguisher.
In addition to the above there is other essential equipment for smooth waters (lakes and rivers) includes bailer or bilge pump, auxiliary propulsion (oars or 2nd outboard motor), anchor (check the rope). For sheltered waters (all waters not exceeding 2 nautical miles form the coast) add a heaving line or throw bag. For coastal waters (beyond sheltered waters) add two (2) red parachute flares, radar reflector, marine radio, EPIRB, first aid kit and water for drinking.
After casting off contact our outstanding radio operators and let them know you are on the water. You can also  keep them updated on your position throughout the day. We see this is an extension to  your safety management plan whilst enjoying the fabulous fishing environment we in the North East are so privileged to have.  To do this call our operators between 8:00 am and 5:00 pm on VHF channel 16 or phone (03) 6376 2443 during these hours or 0408 817 359 after hours. If you log on (and we suggest you do) with St Helens Marine Rescue please remember to log off upon your return.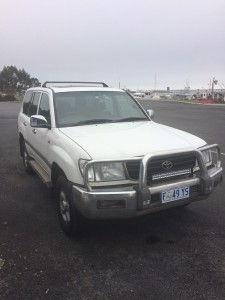 Before you go on the water there are two absolute imperatives:
1. Check the weather forecast. BOM has an excellent site which covers coastal conditions, this can be found at  http://www.bom.gov.au/australia/meteye/
2. Inform persons on land when and where you intend going out to.
To all mariners tight lines as well as a  happy and safe boating season.
We have just received a replacement, compliant tow vehicle for our SAR vessel 'Georges Bay'. Special thanks to our fabulous members in Tubby, Josh, Ken and JD for their hours of toil in making this possible.