University Students visit St Helens
Five second year medical students from the University of Tasmania spent a week in St Helens. They participated in the "2017 Rural Communities Program 2017 – East Coast". St Helens Marine Rescue started their week with a guided tour of our facilities and presented an overview of our operations. Below is part of their report and their impressions of St Helens.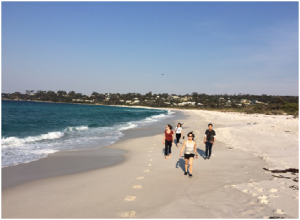 "We are second year medical students from The University of Tasmania: Michael, Ellie, Serina, Brian, and Amy. The rural week program at St Helens has allowed us to experience first-hand rural living and health. Throughout the week and activities, we were exposed to the health services available, whilst learning from the community's own perspective on what the prevalent health issues are that need to be addressed.
The Marine Rescue Association in St Helens oversees health and safety of commercial and recreational mariners at Georges Bay. It is run by volunteers, primarily retirees, but some still in employment. They are involved with escorting vessels through the shallow waters of the bay, monitoring the radios, and in rescue operations. High standards are imposed on vessels and training, with several volunteers holding a Coxswain certification.
There was a great community spirit in St Helens and of the people we met, a large proportion of the population which volunteer to serve the community. It was wonderful to see how passionate people were about the organisation of which they were serving and number of years of which they have been associated with the various groups.
On our rural week placement, we have enjoyed observing the great social connectedness of the community and found the locals to be very warm and welcoming.
We would like to sincerely thank all who were involved in organising and educating us before and during our stay – this was truly an invaluable experience!"
We were honoured to have these distinguished visitors visit our community. We wish them the very best in their future studies. You never know we may see them back on the East Coast as General Practitioners.