Farewell to Ted Collings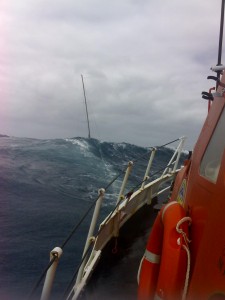 St Helens Marine Rescue wish to express their sympathy to Lorraine and the extended family of our esteemed member Ted Collings who passed away on 18 June 2011 after a prolonged battle.
Ted has been a loyal, dedicated and active member of the service for a number of years. His sense of duty will be greatly missed.
One of the memorable rescues Ted was involved in was the recovery of the yacht Wedgetail during the 2007 Sydney to Hobart yacht race. Wedgetail broke her rudder as she was sailing about 35 nautical miles to the east of St Helens and the 14-hour rescue was accomplished under challenging conditions including 40 foot waves and 110km/h winds.