New Life Jacket Regulations come into force in 2021.
Marine and Safety Tasmania (MAST) have embarked on a terrific programme to encourage fishers and boaters to update their Personal Flotation Devices (PFD).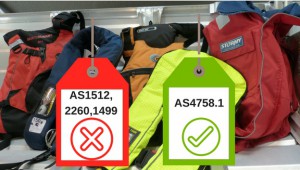 1 January 2021 is the date that all life jackets in use in Tasmania will need to adhere to the new standard AS 4758.
To make the transition easier for the public, MAST will provide $20.00 vouchers for all old jackets (PFD 1, 2 and 3).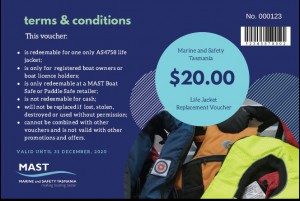 How will the voucher system work? Simply follow these steps:
Attend one of the locations when advertised on the MAST Facebook page, website or in the public notices of the three major newspapers
Take your old PFD1, 2 or 3 along with you;
Receive a voucher issued by MAST and have your old jacket marked;
Take your old jacket to a Boat Safe or Paddle Safe partner as listed on the back of the voucher, purchase your new jacket and leave the old jacket there.
We will issue up to four vouchers per person, but you will need a jacket for each voucher. Only one voucher can be used per new jacket. For a family of five, it signifies a $100 discount on five jackets. Vouchers are not redeemable for cash and expire on 31 December 2020.
A Boatwise Education Evening will be held this Wednesday at the St Helens Marine Rescue's Base.