Rescue on the High Seas – An Incredible Tale
Veronica, one of our dedicated radio operators, received an emergency call from Get Reel with 8 PoB (People on Board) on the Cliffs. The Cliffs are located off the continental shelf East of St Helens. The situation was their batteries had failed, hence they could not start their motors. With deteriorating weather, rising seas and strong winds, Get Reel's situation was becoming dire.
Veronica issued a call to all vessels requesting assistance for Get Reel. One local recreationer responded and commenced the journey to the stricken vessel. Within a small space of time the weather had deteriorated so much the assistance vessel had to turn back. Another call to all vessels was issued, however there was no response. Not to be deterred Veronica put out an emergency call on VHF 82, repeater channel in North Eastern Tasmania. Fortunately a commercial vessel called Diamantina, responded. They were transiting south from the Furneaux Group of Islands. The next challenge was to establish where Get Reel was located. Fortunately a passenger aboard Get Reel had an IPhone and was able to determine their exact coordinates (latitude and longitude) using Compass in the Utilities App. This proved to be a game changer as Diamantina was then able to use this bearing to locate Get Reel.
Incredibly despite very rough conditions a battery transfer took place from Diamantina by throwing  a rope to Get Reel and  passing a spare battery in a sealed bag. Get Reel  re-started their engines and return safely to Burns Bay.
This video shows Diamantina approaching Get Reel, taken from inside Get Reel.     Video of Diamantina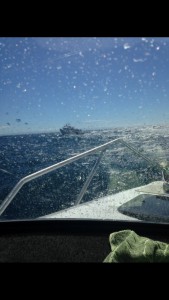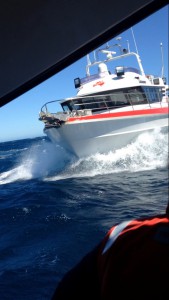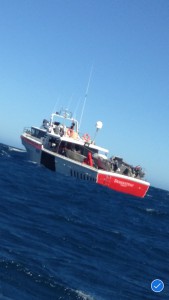 This is an incredible tale of providing for the safety and well being of mariners at sea. St Helens Marine Rescue's highly trained radio operators are the lynch pin to our success in being able to respond in the case of an emergencies. No vessel goes to sea expecting the unexpected, when emergencies occur mariners can be assured your emergency volunteers are ready for action.
The response of Diamantina was an outstanding example of cooperation and response in the case of an emergency.
The take outs from this episode:
1. All on board were safe and sound, they had the appropriate safety equipment and did not panic;
2. The use of a mobile phone to determine the coordinates was a saviour;
3. A VHF radio in good working order;
4. SOLAS (Safety Of Life At Sea) convention played a major role, Diamantina is an outstanding example of this;
5. St Helens Marine rescue is on standby.
St Helens Marine Rescue can be called on VHF Channel 16 and Repeater 82 from 0800 until 1710 hours daily. Our phone number is 0400 817 359 –  24/7.