St Helens Game Fishing Club – Another Successful Year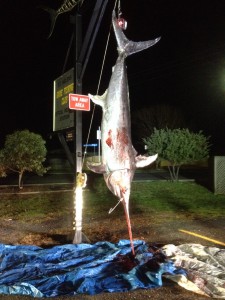 August the 9th, 2014, signalled the annual St Helens Game Fishing Club Annual Dinner/AGM at the Bayside Inn St Helens. Greg (Tubby) Quinn was re-elected President for the forthcoming year.
In the course of the evening Tubby presented the President of St Helens Marine Rescue, John Dearing (JD), sponsorship and a certificate of appreciation for their ongoing support of the St Helens Game Fishing Club.
St Helens Marine Rescue provided hourly VHF radio coverage throughout the day and weather reports for the annual St Helens Game Fishing Classic. In response JD thanked the Game Fishing Club for the most welcomed support. This generosity contributes to the ongoing costs of providing marine safety services to the boating community in North Eastern Tasmania. The service plays a small but critical part to the outstanding success of the Game Fishing Classic. This major, annual recreation fishing competition brings enormous financial benefits to the Community of St Helens.
After all St Helens is the Game Fishing Capital of Tasmania.