Yacht Blue Print Recovered at Cod Bay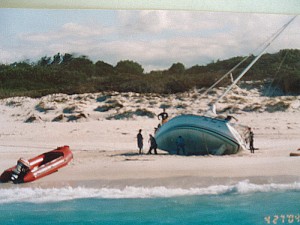 During April 2004 the yacht "Blue Print" was recovered from Cod Bay after running aground in stormy weather.
Blue Print had contact with St Helens Marine Rescue radio listening watch in the evening, reporting they were heading north and had a very strong southerly wind. At 11.30pm a Mayday call was heard by our standby station: Blue Print had hit a rock north of Eddystone Point, possibly Cabbage Rock. We immediately contacted Marine Police in St Helens, opened up base radios with the Tasmanian police and Marine Rescue crew and continued contact. The 2300 observation gave the wind strength at Eddystone as southerly at 65 knots.
Blue Print said they were taking water and believed they were inshore of Georges Rocks. This was most concerning as there are a number of navigation hazards in this area.Visibility was down to zero with a large sea.
The skipper then reported that the yacht had hit something hard and had stopped sailing. After a minute or so, they advised that they were going to abandon ship.
We sat at the radio with our hearts in out mouths,thinking only the worst could happen. Three minutes later Blue Print came back on the air reporting that they were up on the beach on the northern end of Cod Bay.
Sergeant Elwyn Williams and Constable Kevin Smith left St Helens immediately in a 4×4 to recover them, succesfully doing so in the early hours of the morning in very poor conditions.
The owner contacted St Helens Marine Rescue with a view to recovering Blue Print.
We thought the chance of recovery were good providing there was no significant damage.The yacht had to be removed as it was aground in the Mt William National Park.
The St Helens Marine Rescue vessel, Sea Guardian(Solent Class), skippered by experienced local fisherman Lance Barber, left St Helens to attempt a recovery. Sgt Williams and Constable Smith put the Police inflatable in at Eddystone Point. The inflatable was used to put crew onshore with tow ropes and equipment.
After arrival, an inspection of Blue Print revealed a crack on the hull along the keel, this was temporarily patched. The yacht had been pushed approximately 20 metres up the beach and a number of shallow rocks were going to make towing to sea awkward.
The keel was embedded in sand. The keel was cleared and a 100 metre tow line secured. Blue Print had to be turned, with mast out to sea, to ease the drag to water. After a couple of breaks in the tow rope and three hours of hard work, Blue Print was in the water.
She was successfully towed back to St Helens, much to the owners delight.