Rescue Exercise with St Helens Paramedics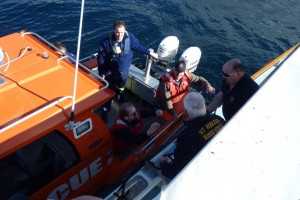 On 8 August St Helens Marine Rescue and the St Helens Paramedic Unit conducted a joint exercise.
Using the Freycinet as command vessel and the Break O'Day as response boat, the exercise consisted of bring paramedics up to speed on safety on board and at sea. A boat-to-boat patient transfer was carried out, demonstrating the difficulties of this activity to the paramedics and crew.
The exercise was of benefit to all those involved. It was also a good opportunity for members of both services to get to know one another better.
More exercises will be carried out with the busy season approaching.