Visitors to Break O'Day
Power of VHF Radio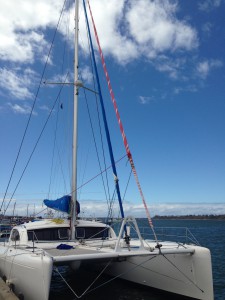 Sunday 12th of October, 2014, New Zealand yacht (catamaran) "Lucia" calls on channel 16 at 0745 hours. The skipper was seeking passage across the St Helens bar into Georges Bay. Conditions were good for a barway crossing. Queries covered tide, water depth, channel, and directions through the Bay to dock at the Esplanade wharf. Radio operator John gave instructions to cross the bar and enter to an area colloquially referred to as 'The Paddock'. Motoring the channel along the sea wall to Pelican Point then follow the red and green markers to ply the waters of Georges Bay for St Helens.
An easy cruise across the scenic, tranquil waters of Georges Bay gave our international visitors a beautiful entry to North East Tasmania. At the 5 knot green pylon on approach to The Esplanade the crew enquired as to the availability of a place to tie up. Fortunately one spot remained at the jetty. With assistance from a local fisherman the impressive ocean going catamaran successfully secured its lines to the wharf.
After a heavy night of buffeting at sea crossing Banks Strait, the crew were relieved to land on terra firma. Three days of R & R and site seeing Lucia cast off for the next leg of her journey to Hobart.
Respite from the sea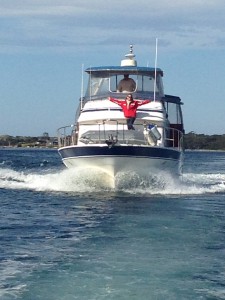 "Nuin Bay", a life style cruiser, entered Georges Bay courtesy of an escort through the barway and Georges Bay in blustery conditions. Their journey is from Kettering  to Eden then to its new home, Lake Macquarie in NSW. After tying up and settling in at the St Helens Marina exploration of our unique part of the world simply called North East Tasmania began. Hot on the list of things to do was to sample the outstanding oysters of Georges Bay.
Oysters are the very best of the NE fare.
The author took Sonia to the oyster farm where she purchased 5 dozen unshucked oysters. The oyster racks across the Bay were the driver to sample this delicacy. After three days, Nuin Bay set off for Eden in the very best ocean conditions before journeying to Lake Macquarie.