St Helens Is Open For Business
Notice to mariners visiting and enjoying the North East of Tasmania.
The summer marine season is rapidly approaching. The sunny east coast is a mecca for maritime pursuits for yachters, boaters and professional fishers. Georges Bay is an outstanding recreational waterway for swimming, fishing, photographers and magnificent site seeing. There is something for all visitors in this place of paradise. When you venture by a friendly welcome mat is laid out for you. Drop into the St Helens Marine Rescue Base on The Esplanade and you will get an extra welcome with advice and assistance in relation to conditions in and on The Bay and at sea.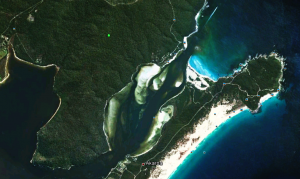 For sea farers the entry to Georges Bay is available and navigable when conditions prevail (I point out this is most of the time). This is the gateway to the Bay and will afford you a 6.5 nautical mile cruise to  St Helens. The pristine waters of the area is the beginning of your time with us.
The image to the left depicts the entrance to Georges Bay. If you are not familiar with the navigational channels and would like assistance , don't hesitate to contact St Helens Marine Rescue on VHF Channel 16 or phone 0408 817 359.