Anmaropa Buoy – Re-established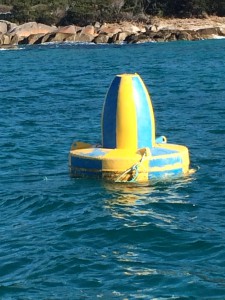 Mariners are advised the navigation buoy on the sunken vessel Anmaropa  at the St Helens Bar has been re-established. A copy of the email advice from Marine and Safety Tasmania (MaST) is featured below.
It is timely to remind sea farers the conditions on the barway are changed since the recent weather events. Members undertook a survey of the bar Saturday, 22nd July 2016. It was noted the depth profile across the bar is significantly changed.  Additionally, Pelican Point is clearly marked and it too has a changed profile. A skipper's knowledge of tide and weather conditions are paramount in negotiating a safe passage across the Bar and Pelican Point.
If masters/skippers are contemplating entry into Georges Bay and are unsure, please do not hesitate to contact St Helens Marine Rescue for advice and or assistance. We are available on email at sthelensrescue@bigpond.com or 0408 817 359. Our radio room operates from 0750 hours – 1210 hours weekdays, 0750hours  – 1710 hours weekends and public holidays as advised in our previous post.
From: "Wells, Julie (MaST)" <Julie.wells@mast.tas.gov.au>
Date: 15 July 2016 at 10:54:13 AM AEST
To: Undisclosed recipients:;
Subject:MAST – Notice to Mariners – Navigation Wreck Buoy – Georges Bay Barway
Marine and Safety Tasmania
——————————————-
Notice No.:             M125-16
Title:                      Navigation Wreck Buoy – Georges Bay Barway
Valid From:           15/7/2016
Notice Content:
Mariners are advised that the blue and yellow wreck buoy marking the location
of the sunken vessel Anmaropa on the Georges Bay Barway in position 41o
16 237 S; 148o 20 072 E has been re-established in position.
M57-16 is now cancelled.