Crossing the St Helens Bar in a trailer boat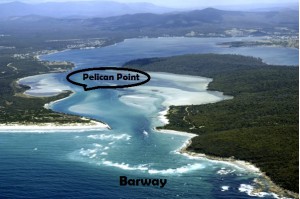 St Helens Bar is one of many located up and down the east coast of Australia. Situated at the mouth of Georges Bay it is the  result of a build up of sand across the entrance.   Sand bars change with tide and rainfall, this is the case since the heavy rain events of June and July, 2016. It is an imperative that mariners observe absolute safety when contemplating a crossing.
New Zealand Regional Councils of Waikato and the Bay of Plenty have produced an excellent educational video titled "New Zealand Bar Crossing – How to cross a bar ".
This can be found on You Tube at:
https://www.youtube.com/watch?v=uNTk2IejfFE
The video strongly urges mariners to undertake thorough preparation and planned execution when crossing a bar. Key principles include:
Check the weather forecast;
Check the tides;
Get local information from St Helens Marine Rescue;
Check your boat and safety equipment;
Have a plan B ready – launch elsewhere or don't go.
Tides play a major role in determining the timing of the crossing. The video highlights when going out the best time is between 3 hours prior to high tide and high tide; when returning between 3 hours before high tide and 1.5 hours after. These are a general guide only, again conditions must be suitable for a crossing.
There is a cautionary alert, "Never cross a bar in an open boat if there are waves breaking right across." The final decision to cross is the responsibility of the skipper. The safety of all on board is critical in the final crossing. Call upon St Helens Marine Rescue to lend assistance. This can be done via VHF Channel 16 or 0408817359.